Dying well.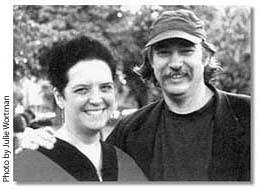 Last week, we learned of the death of a beloved member of the extended Sojourners family. Jeanie Wylie-Kellerman, who had fought brain tumors for seven years, passed away on New Years Eve.
I never got to meet Jeanie, but she and her husband, Bill, were a strong presence in the collective memory and ethos when I was interning at Sojourners. There was a little prayer table set up in the hallway outside the library with pictures of the W-Ks and their daughters, some writing that Jeanie had done, some candles. Everyone always spoke of them so warmly, so fondly. Their lives were about Kingdom work, about speaking truth to power and speaking up for the little guy and showing up.
Jeanie lived and died on the buoyancy of grace. Take the time to read two remarkable obituaries from the
Detroit Free Press
and the
Metro Times
, which chronicle her deeds as well as her community funeral. Even more moving is the website that chronicled her family's journey through the disease in the form of
online diary entries
, right up to the end:
"Recent days have been a gift of grief and grace. We are not crushed. We are held by a beloved community. We now know of ashes to ashes, but the days of surrounding and caring for her body were an incomprehensible gift. Every act of practical care proved to be simultaneously sacramental. ... We're sending her off with a shout. Shout with us. Or shout where you are."
I shout with this family and its beloved community: Death is not our friend. It is our enemy, and oh, how deaths like Jeanie trouble me in my deepest parts. A wife, a mother, a woman who had done so much good and yet had barely even begun. But God has made his victory over death, which has bearing not only on the way we die, but the way we live. I hope my beloved and I will be able to do both with the firey hope and grace of Jeanie.